Team-TERRA is accepting applications now
For students entering the Team-TERRA program either fall 2023,

 

(existing UConn students) or fall 2024 cohort (students applying for admission to UConn), 

applications will be reviewed starting on February 1st, 2023, with priority given to those applications that are received prior to February 1st, 2023. Rolling admission will continue until April 1st, 2023. Click application to apply.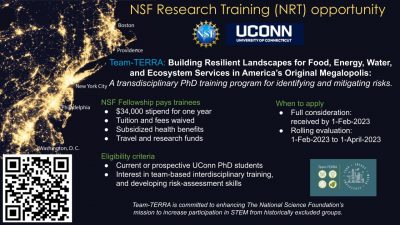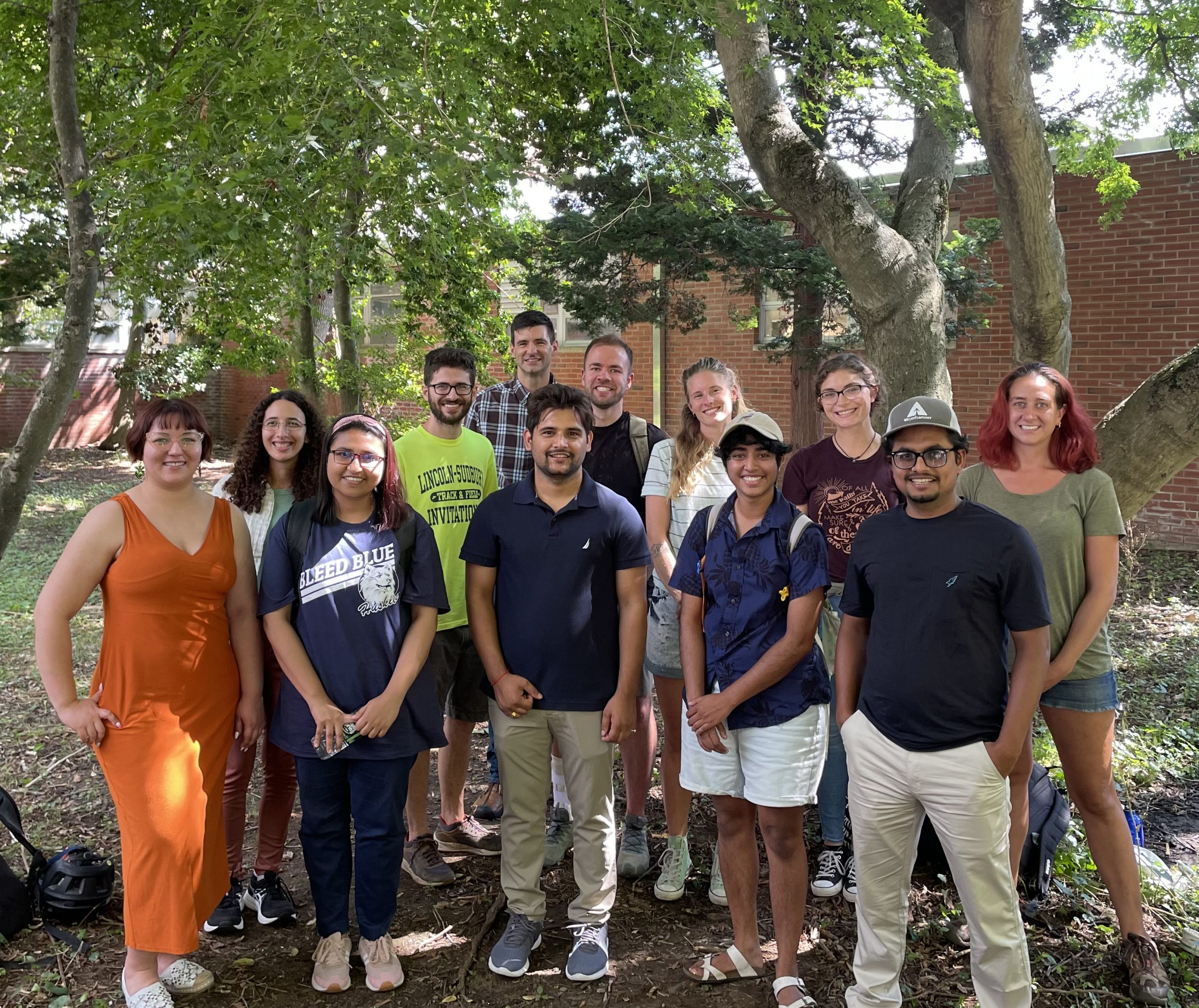 Welcome to Team-TERRA - Building Resilient Landscapes for Food, Energy, Water, and Ecosystem Services in America's Original Megalopolis.  Team-TERRA is a newly funded transdisciplinary training program in the Center of Biological Risk at the University of Connecticut. The training program consists of a 2-year sequence of coursework, teamwork, a real-world internship, and associated workshops. We will use the northeastern US megalopolis stretching from Boston to Washington, D.C. as a living laboratory to understand, predict, manage, and communicate risks to food, energy, water, and ecosystems in the face of global change. As part of the training program, trainees will work in diverse teams to predict and solve complex problems of the future in regions that are urbanizing and stretched to both provide the essentials for human wellbeing while maintaining the many benefits of biodiversity and natural ecosystems. 
Welcome Team-TERRA Cohort 2022-2023
Peter Billman, Ketki Samel, Katja Kwaku, Michael LaScaleia, Erin Dierickx, Durga Joshi, Madeline Kollegger, Bivek Bhusal, Catalina Vasquez, Makduma Zahan Badhan & Naomi Adler Welcome Team-TERRA Cohort 2023-2024 so far...
Mei-Ling Feng & Lucy Hendrickson
Values Statement
Open-mindedness

Give and receive support to create an equitable, empathetic, inclusive environment

Purpose-driven to improve the world

Freedom to grow

Overcome barriers
News
Congratulations to Adam Gallaher for receiving funding for the 2022 Multidisciplinary Research Awards for Graduate Students (MERAGS) for "Walking the walk: An analysis of the drivers, barriers, and directions of the Connecticut EV market, 2012-2021," in collaboration with Dr. Carol Atkinson-Palombo (Geography) and Dr. Lyle Scruggs (Political Science) on this project.
Congratulations to Madeline Kollegger for receiving funding for the 2022 Multidisciplinary Research Awards for Graduate Students (MERAGS) for 'assessing coastal vulnerability of environmental justice communities" in collaboration with Dr. Wang and Dr. Urban that was funded.
Congratulations to Adam Gallaher for his OpEd in the Hartford Courant on heat pumps and the supply rate increases CT and New England are facing this coming January.
Congratulations to Franco Gigliotti and Maddy Meadows-McDonnell for being featured in the New London Day for their research on saltmarsh ecology and restoration: https://www.theday.com/local-news/20220921/salt-marsh-researchers/
Congratulations to Adam Gallaher, winner of Provost's Award for Excellence in Community Engaged Scholarship for his work with the other Department of Geography Covid-19 mapping members to create a real-time resource for COVID-19 risks in Connecticut.
Congratulations to Raul Flamenco for the excellent interview in UConn Today
Congratulations to Kathy Segerson who was just elected to the National Academy of Sciences, one of the most prestigious honors in the world. Kathy joins other Team-TERRA members, Gene Likens and Steward Pickett. Here is the UConn At Work story on Kathy's election into the Academy.
Student Team Project Presentations, Tuesday May 3rd, TLS 111, 9:30-11:00. Recording of the event can be found at this link.
Congratulations to Team-TERRA fellow, Sarah Klionsky, whose research was profiled in UConn Today, 'Digging into the Finer Details of Retired Cranberry Bog Restorations.
Congratulations to Team-TERRA fellow Adam Gallaher, who just had an OpEd published in Energy News Network on electricity rate increases and what can be done about it (renewables!)
Congratulations to Team-TERRA fellow Adam Gallaher, who in addition to getting published in UConn Today, has just had an OpEd that he wrote in the Sci Comm class last semester published in the Hartford Courant. Link is here.
Collaborative Partner Organizations
We are excited to collaborate with these partner organizations:
The premier ecosystem research institute, the Cary Institute of Ecosystem Studies in Millbrook, NY. Together, we will study the risks to the urbanizing landscape of the northeastern U.S

UConn Institute of the Environment

has a mission to advance research, education, and engagement concerning the environment and sustainability at the University of Connecticut. 

UConn Center for Biological Risk

seeks to improve the capacity to assess, manage, and communicate biological risks of global change through research, teaching, and community outreach. The Center focuses on risks that affect, originate from, or are mediated by biological systems. 
Program Events
Orientation, first day of class for cohort 2, August 30th, 12:15 pm

Faculty research talks during class, 9/06, 2:15 pm and 3 pm

Faculty research talks, during class, 9/07, 11 am -12 pm

Advisory Board Meeting, 9/08, 10 am-4 pm, virtual

NSF NRT PI Meeting, 10/17-10/19

Recruitment Information Session, November 2, 4-5:30

Check ins, 12/12-12/20
Curriculum
1st year
Fall:
EEB 5482 Science Communication II: Writing for Public Audiences, Tuesday/Thursday, 9:30-10:45 am, Austin Building Room 247 (3 credits)

EEB 5895 Section (018) Environmental Risk Communication, Tuesday, 11:00-12:00 pm, Gant W Room 416  (1 credit)

EEB 5872 Environmental Risk Assessment, Tuesday, 12:15 pm-3:15 pm, Bamford Room, Room 171B in Torrey Life Science (3 credits)

EEB 5882 Environmental Risk Practicum 1, Wednesday, 10 am-12 pm, Bamford Room, Room 171B in Torrey Life Science (3 credits)
 Spring:
EEB 5882 Environmental Risk Practicum 2

 (3 credits)

GIS course elective (3 credits)
2nd year